Blurt \ Cut It! [LTMCD 2560]
Still as unique and frenetic as ever, on their first album in 13 years Blurt comprise sax-skronking frontman Ted Milton along with guitarist Steve Eagles and drummer David Aylward. Dark and intense, Cut It! was recorded with co-producer Sam Britton and features ten brand new tracks, including the limited edition 7" single Cut It! issued in 2009.
Tracklist:
Once More
Pure Scenario
Plunge
Cut It
Hat
The Bells
Block
Gerbera
Sweete Thames
Minibar
Available on CD and digital download. CD CURRENTLY OUT OF STOCK.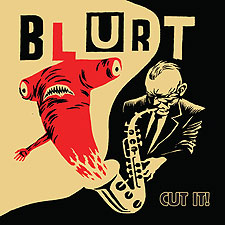 Reviews
"Demonic sax, and shouty, Dadaist poetry in an Afro-punk, psycho-funk, instant pogo jazz way, from honking mad veteran sax man Ted Milton and his engagingly whacked-out crew" (Time Out, 07/2010)
"While the direction Blurt follow here might be less funk, less dancey than before, these songs are no less ferocious and vituperative" (RifRaf, 10/2010)
"They are a musical outburst, a thuggish holler across the street and a blast from a faulty gas-main. They make absolutely no sense whatsoever yet make every one of your senses stand up on end - you can smell the intensity, taste the scratched guitar-hooks and feel the rhythms. With an open mind, I think you'll like a bit of Blurt. They create ear-bleeding, hip-wiggling and bollock-pummelling breakbeats across this bang-on 10-song blast. I love the disorientating riffing and Tom Waits-esque croonings of "Give me an 'A' to float on". I adore the short-sharp burst of Hat and the topical The Bells with the analytical lyric, "They did not give their lives, they sold them to keep the bells of Wootton Bassett tolling." Every track is a hypnotic cacophony of latent energy and renewed vigour that sounds like a band just starting out, not stamping their 30-year old authority all over your woofers" (neverenoughnotes.co.uk, 08/2010)
"Renowned for his intense live performance and intriguing minimal rhythmics, Milton has maintained an enthusiastic audience for the past thirty years. His latest releases sounds no less aggravated and compelling than notable works, In Berlin and The Fish Needs A Bike. The sheer command and lunacy of Once More or Plunge (with its unsettling refrain "Yes! I hear they've invented the wheel since you've been away from me...") retains all the inspiration of a genuine artist. Credit where it's due – producer Sam Britton presents this unique noise amidst its untethered chaos yet manages to ply it with the sophistication and clarity of a gutter worn diamond" (The Big Takeover, 09/2010)
"No mere nod to past glories, Milton stands back and allows his band air to breathe, with whip smart producer Sam Britton's fresh electronics placing Cut It! firmly in the Now" (Trust, 10/2010)
"Opening with Once More, this comeback CD by the best punkjazzcombo ever kicks off as though the last 25 years never happened. Rarely has new music sounded this intense, or this direct" (Westzeit, 10/2010)
"Blurt here sound happily energized, with Milton's eye and ear for aggressive absurdities and his own vision of the world clearly intact" (All Music Guide, 10/2010)