Compressed compiles material recorded for Factory Records between 1983 and 1986. The first eight tracks are taken from their two 12" eps for the label, Trouble Hand (1985) and Compressor (1986), which saw the second version of the band heading in a denser, more polyrhymic direction lead by Graham Massey and Howard Walmsley.
The 73 minute CD also includes the full soundtrack to the noir-ish 1984 film Feverhouse, released on video and album by Factory the following year. Perhaps the best known yet least understood Tongues album, it has survived down the years in the boxes of the UK's more adventurous electronica DJs. Scripted by onetime Tongues vocalist Ken Hollings and directed by Howard Walmsley, the film soundtrack was praised by Sounds ('Magnificent') and NME ('The Tongues have always excelled in delivering ominous voodoo thumpings and clickings, loosely bound by tape-doctored brass. Far more than avant garde wallpaper').
Tracklist
1. Compressor
2. Trouble Hand
3. Panorama
4. Meat Mask Separatist
5. Boss Toyota Trouble
6. Probate
7. Black Jesus
8. Black and White Jesus
9. Feverhouse Pt.1
10. Feverhouse Pt.2
11. Feverhouse Pt.3
12. Feverhouse Pt.4
13. Feverhouse Pt.5
14. Feverhouse Pt.6
15. Feverhouse Pt.7
16. Feverhouse Pt.8
17. Feverhouse Pt.9
18. Feverhouse Pt.10
Booklet contains full recording information and a detailed band history.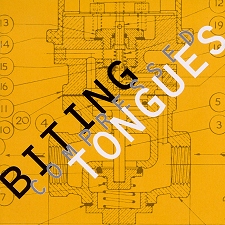 Reviews:
"Critically overshadowed by groups like Cabaret Voltaire and 23 Skidoo, Biting Tongues were one of those groups crudely labelled 'industrial' who were sampling before the machines were available and the phrase coined, bristly purveyors of Burroughs-influenced funk-noir, turning the supposed hedonism of dance music inside out" (Uncut, 11/2003)
"To think that this vibrant music was routinely dismissed as grim and joyless back in the 1980s. Black Jesus is an unlikely amalgam of proud Fela Kuti brass stylings, woozy dub and a seven beat riff that is pure Magma. The starkly beautiful collage devised for their own noirish 1983 film Feverhouse stands up better than superficially similar soundtrack experiments generated by their Sheffield-based contemporaries like Hula and Cabaret Voltaire" (The Wire, 03/2004)
"Feverhouse is an atmospheric art-film soundtrack by rhythmic tape experimenting rock musicians, while the later Factory eps feature machine-like drums, hypnotic bass, looplike vocals, dark melodies and killer horn riffs" (Brainwashed, 05/2003)