Paul Haig \ Cinematique Vol. 1 [LTMCD 2309]
The original and best of the Cinematique CD series by Paul Haig, first released by LTM in October 1991. Volume 1 is loosely based around the concept of incidental music for imaginary films. The disc is split into three different suites, each conveying a different mood and atmosphere. The first, City of Fun, evokes sounds and images of the best Sixties espionage thrillers: fast cars, faster women and untipped cigarettes. The second, Lagondola, offers a cool, ambient piano cycle. The third, Flashback, offers classic electronica which drops from warm to chilling.
Several 'found' scenarios are included in the booklet.
Tracklist
1. Black Veil and Gold
2. City of Fun
3. Somewhere Inbetween
4. The Hunting Party
5. Crime Interlude
6. City of Fun (Slight Return)
7. Lagondola 1
8. Beauty
9. Highland
10. Deception
11. Intimacy
12. Lagondola 2
13. Flashback
14. Eastworld
15. In-Flight Entertainment
16. Oil
Available on CD and download. Artwork by Neil Jones.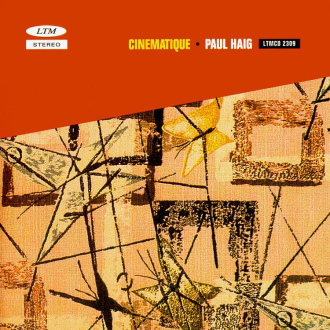 Reviews:
"Divided almost symetrically into bright and ethereal piano-led pieces which nod towards the icy elegance of Erik Satie, and the dreamy sound dramas of Angelo Badalamenti, and harder-edged jazz-flecked themes whose spiritual home is a monochrome 1950s film noir" (Q Magazine, 11/1991)
"It works, basically. As an idea, as an album, as various scores to films I'd love to see. Wonderful" (Select, 11/1991)
"Expect him to be catapulted to cultural icon status" (NME, 01/1992)
"Haig clearly knows what he's about. He has a good ear for a phrase, a good technical command of his electronic resources, and a sophisticated sense of conventional orchestration" (Option (USA), 02/1992)
"Never less than gripping, and rivals Haig's work on his more song-based albums. Everything here merits attention purely sonically, and Cinematique works beautifully as an aural operation" (Whisperin' & Hollerin', 01/2004)
"Harnessing his love of luscious synth pop and classic swing in his own sweet, eccentric style" (The List, 06/2009)