Steven Brown \ Plays Tenco (Studio + Live) [LTMCD 2428]
Recorded in Italy in 1987 and originally released as a mini album on Industrie Discografiche Lacerba, Brown Plays Tenco features interpretations by Steven Brown of five songs written by cult artist Luigi Tenco. Born in Cassine in 1938, Tenco scored many hits as a singer in Italy during the 1960s, but shot himself through the head at the San Remo Festival in 1967 after Ciao Amore Ciao failed to reach the final. The suicide note explained that his suicide was a gesture of protest against the jury's poor taste in music.
Remastered for CD and download, Brown Plays Tenco now includes nine bonus tracks recorded live in Italy in 1988. These include in-concert renditions of songs by Luigi Tenco as well as solo material by both Brown (Besides All That, R.W.F.) and Tuxedomoon (What Use?, Egypt, Lowlands Tone Poem).
Tracklist:
1. Lontano Lontano
2. Un Giorno Dopo L'Altro
3. Ciao Amore Ciao
4. Vedrai Vedrai
5. Mi Sono Innamorato ii Te
6. Lowlands Tone Poem (live)
7. Besides All That (live)
8. What Use? (live)
9. Vedrai Vedrai (live)
10. Egypt (live)
11. What Use?/Lowlands Tone Poem (live)
12. Lontano Lontano (live)
13. Un Giorno Dopo L'Altro (live)
14. RWF/Mi Sono Innamorato di Te (live)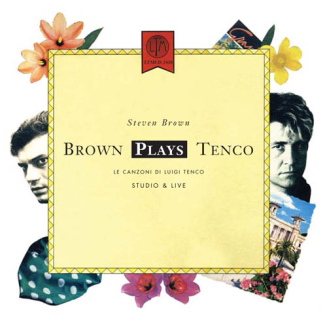 Reviews:
"Expect Steven Brown to do one thing, and you can bet money on him doing the exact opposite. In a career wedded to an almost wilfully contrarian ahistory and stubborn resistance to fashion, this collection of subtly charged pop tunes by the late Italian chart idol finds a current of bittersweet self-awareness" (Paris TransAtlantic, 05/2007)
"Luigi Tenco's best work is quite magnificent, and Brown's convincing versions of his material (in both English and Italian) has an air of tragedy and the wistful quality of slightly unhinged Bowie. The backing is terrific, with suitably sparse piano, sax, double bass, clarinet and light percussion, and the bonus live tracks make Tenco a consistent and appealing record" (Brainwashed, 02/2008)