Book of Hours was first released by Les Disques du Crépuscule in 1989. Guest musicians include Tuxedomoon colleagues Steven Brown, Luc van Lieshout, Paul Zahl and Ivan Georgiev, as well as Ludus guitarist Ian Devine.
This remaster includes 5 bonus tracks, including a surprise funereal cover of El Paso by Marty Robbins, film soundtrack contribution Blackout and both sides (Cosy Little Planet, Burnsday) of rare single Orphans, released in a limited run of 100 copies in 1997.
Tracklist:
1. Zombie Hop
2. Sainte Therese
3. Letter From Home
4. Software Pancake House
5. Pavane
6. El Paso
7. To the Green Door
8. Salad Days
9. Come the Spring
10. Marchand de Feraille
11. Bay Bridge
12. El Paso (7" mix)
13. Blackout
14. Cosy Little Planet
15. Burnsday
Available on remastered CD and download. Revised artwork.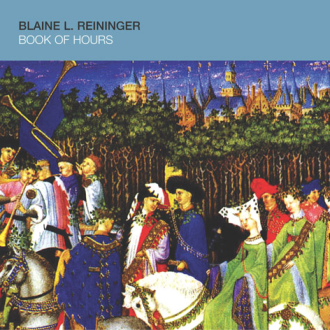 Reviews:
"Reininger is a consumate bricoleur, and even though they are usually anchored to an electronic beat, his Roma/jazz/cowboy/film noir themes are rooted in a mythical North America. It might almost be a drag act - Melville, Hemingway and Chandler all rolled into one. Perhaps the most important point of Reininger's work, though, is that it manages to be both humorous and beautiful at the same time. Witness the wistful Letter From Home and the Zappa-like mania of Software Pancake House, with its surreal lyrics and parping brass" (The Wire, 08/2005)
"These are the nearest to pop songs that we've heard from Reininger, and Book of Hours is ravishingly well-stuffed. Letter From Home is a lovely, haunting thing that makes me shiver. Remastering, careful choices and artful sequencing are very well done" (Whisperin' and Hollerin', 06/2005)
"A flawed jewel, but some with some state-of-the-art experimentation and lush, moody arrangements" (All Music Guide, 2005)
"Black Out is his drive-time radio hit-that-never-was, a glorious pop anthem" (Paris TransAtlantic, 05/2007