Boutique \ Birth Control - Backdoor Possibilities + Sartory Live (2CD) [BOUCD 6612]
Formed in Berlin in 1968, Birth Control were known for a progressive hard rock sound fused will elements of jazz, psychedelia and Krautrock. A surreal concept work recorded by legendary producer Conny Plank, Backdoor Possibilities arguably marked their final creative peak, combining rock, jazz and avant-garde styles with intricate polyrhythmic textures and lyrical nods to Faust and Odysseus.
This double disc edition of Backdoor Possibilities has been remastered by Zeus B. Held and features three bonus live tracks recorded in Korbach on 1 May 1977, as well as a bonus live disc recorded at the famous Sartory Saal in Cologne on 24 September 1976.
Full tracklist:
Disc 1 (Backdoor Possibilities)
Prologue
Physical and Mental Short Circuit
Subterranean Escape
Film of Life
Childhood Flash-Back
Legal Labyrinth
Futile Prayer
The Farrockaway Ropedancer
Le Moineau de Paris
Cha Cha D'Amour
Behind Grey Walls
No Time To Die
Meta Ventilator (live)
Gamma Ray (live)
Long Tall Sally (live)
Disc 2 (Sartory Live)
Plastic People
One First of April
BeeDeePees: Backdoor Possibilities
My Mind
La Cigüena De Zaragoza
Behind Grey Walls
Keyboard Solo/No Time To Die/Guitar Solo
Available on CD and download. Booklet includes archive BC photographs and ephemera.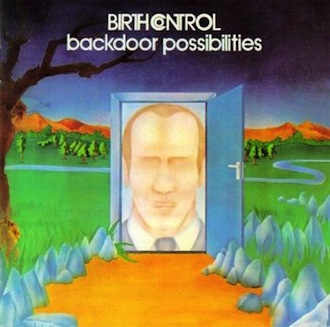 Reviews:
"Once you've manfully taken on board the tiresome confluence of band name and album title here, there is in fact much to commend about this furiously busy set piece of German 70s prog. Despite being formed in Berlin in the revolutionary ferment of 1968 - and despite, in this instance, the presence behind the mixing desk of krautrock kingpin Conny Plank - Birth Control have little or nothing in common with otherworldly, envelope-pushing peers such as Can, Neu!, Kraftwerk and Faust. If anything, the band's rocky schtick is closer to the Nektar end of the spectrum, albeit replacing the latter's trippy stock-in-trade with a gimlet-eyed, mathematical, fusion-forged proficiency. 1976's Backdoor Possibilities is the band's sixth album, a diffusely conceptual undertaking bristling with complex instrumental subdivisions and parentheses. It's not an especially attractive sound, mind: exceptionally musical but hardly melodious, with keyboardist Zeus B Held's arcing ARP synths and Moogs the very embodiment of a cold, future-shock dystopia. It is, however, broadly representative of Birth Control's take-no-prisoners ethos if considered in tandem with the bonus live tracks, including a maniacal Long Tall Sally, which demonstrate just what gurning, crowd-coaxing monsters they were - and indeed still are - when taking to the stage" (Record Collector, 07/2011)
"Backdoor Possibilities was BC's sixth album and followed the masterpiece "Plastic People" which has been oft overlooked. "Backdoor Possibilities" is an excellent concept based on a story about a corporate businessman who is trapped by his own success and who ultimately reflects on his life before meeting death in a subway. Overall, the music manages to maintain BC's typical hard rock sound, but is augmented with jazz and classical elements. The album is divided into three suites, 'One First Of April', 'Beedeepees', and 'La Ciguena De Zaragoza' with the latter being the strongest and closest to "Plastic People". Musically this album does it all with creative song writing, superb arrangements and some excellent playing. Line up was pretty much the same with Bernd Noske re-joining on lead vocals again. As you would expect the albums strength lies with in this inherent complexity and instrumental prowess. This album was very well recorded and sounds very warm with the Richenbacher bass runs and Farfisa and Arp Synths. The Remastered version offers a pretty solid re-interpretation of this album and contains bonus 1976 era BC recordings which are very good. Album was produced by 2 noted 70's prog producers - Conny Plank and David Hitchcock. This is a great album to get lost in" (ProgArchives, 2004)