After Twilight is an album of new recordings by artists associated with chic Les Disques du Crépuscule. Featuring contributions from Antena, Anna Domino, Paul Haig, Blaine L. Reininger, Cathy Claret and The Names, After Twilight features several brand new songs as well as updates of favourite back-catalogue tracks. Part nostalgic reverie, part retro-futurist nod, the album was executive produced by electro-samba pioneer Isabelle Antena, and seamlessly mixed by Denis Moulin.
The booklet features cover art by designer Andrew Prinz, as well as liner notes by Paul Pledger.
1. Cathy Claret Toi
2. Anna Domino 'Rythm'
3. Antena To Climb the Cliff
4. Blaine L. Reininger Broken Fingers
5. Paul Haig Christiana
6. The Names with Isabelle Antena Halloween in June
7. Cathy Claret Chocolat
8. Anna Domino Wonderkey
9. Antena Straight to the Point
10. Blaine L. Reininger Un Café au lait for Mr Mxyzptlk
11. Paul Haig Mad Horses
12. Anna Domino The Light Downtown
13. Antena Little Boxes
14. Cathy Claret Tell Me Why, Soledad
15. Blaine L. Reininger Throat Singing
16. Paul Haig Ambition
17. The Names White Shadow
Available on CD and download.
Reviews:
"A virtual Who's Who of the elegant Crépuscule roster. Regardless of mystique, or whatever retro fad is once again in vogue, a good song will out, and After Twilight is simply brimming with them. None of the tracks seem to oxidize, each selection glistens with a new polished sheen" (The Big Takeover, 04/2011)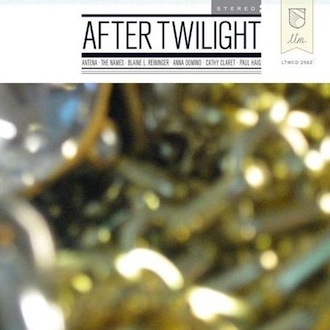 BEFORE TWILIGHT
Back in the late 70s and early 80s, independent record labels in the UK were two a penny and only a few were worth their salt: Rough Trade, Postcard and 4AD pushed a few boundaries with packaging as well as with the all-important music, but in North-West England another label, Factory, was making an impression with its unique and minimal sleeve-art and rain-soaked post-punk sound-scapes courtesy of Joy Division (and ultimately New Order), Section 25, A Certain Ratio and Durutti Column. Meanwhile, similar creative in-roads were being made in the modest Lowlands country of Belgium, courtesy of a less-publicised but no less-interesting 'cold-wave' scene that was more advanced than that of its neighbours.
DURING TWILIGHT
Les Disques Du Crépuscule was formed in 1980 by Brussels scenesters and gig promoters, Annik Honoré and Michel Duval. Their remit seemed simple - to emulate the DIY attitude of UK labels like Factory, Rough Trade and New Hormones whilst retaining an air of artistic individualism, not least with the sleeve artwork provided initially by Benoît Hennebert (an in-house designer with clout, much like Factory's Peter Saville).
The label established itself with engaging vinyl releases from Cabaret Voltaire, Bill Nelson and Josef K until its peak period began really take hold in 1982. Armed with an enviable roster and with Post-Punk almost officially over, Crépuscule admirably refused to buckle to trend and became a haven for many like-minded artists who saw past the New Romantic vision of major-labels.
Antena, Paul Haig, Blaine L.Reininger and The Names became early signings and proved to be the small tip of an ever-growing iceberg of releases. The label eventually progressed into the arenas of pop, avant-garde and classical with releases from Anna Domino, Jane Kelly-Williams, Wim Mertens, Devine and Statton, Kid Montana, Isiro, Marie Audigier, Cathy Claret and even iconic 'Moonlighting' actress Cybill Shepherd singing jazz-standards with legendary sax-maestro, Stan Getz.
AFTER TWILIGHT
The curator for 'After Twilight' is electro-samba and bossa-nova singer, Isabelle Antena, a prolific artist for Crépuscule who released a classy series of pop and jazz albums that sold around a million copies in Japan, although met with comparative indifference in the UK and most of Europe apart from Spain and France. The aim of this project is pure and simple. Isabelle takes up the story: "With 'After Twilight', I wanted to re-unite the artists with their songs again and the only way to do that was to re-record them. I contacted the other performers from the Crépuscule Japan Tour - Anna, Cathy and Jane (Kelly Williams - graceful country-folk singer from the US) - and they all agreed with the idea of the project. Regrettably Jane couldn't commit to this volume - but there is always 'Volume 2'! I didn't just want female singers on the album so I approached some male allies in The Names, Paul Haig and Blaine L. Reininger, with whom we had also toured with (in 1982 on the 'North-South Dialogue Tour'). They were only too pleased to re-visit old songs as well as contribute new ones."
ANTENA
Initially, Isabelle's musical journey in Brussels started in 1982 with the compilation of a demo, a minimal amount of postage money, two friends and a lot of snow. The original line-up of the electro-samba trio, Antena, comprised Isabelle, Pascale and Sylvain - three friends who felt they songs that were good enough to release. They embarked on an 'extensive' program of sending out demos to labels but only succeeding in reaching three of them. "Actually, they were the only addresses we could find on the back of some album sleeves we had in our tiny flat in Paris. The first was Ralph Records (owned by and home to erstwhile big-bug-eyed crazies, The Residents and also the Swiss-disco duo Yello and US art-rock band, Tuxedomoon), ZE Records (Ultra-trendy stable for seminal noise-minimalists Suicide and the Latin-funk playboys and playgirls, Kid Creole and the Coconuts) and Crépuscule. We got very little feedback from the first two, but were delighted when Michel Duval invited us to his flat in Brussels with a deal to record some songs."
Cue a mad hitch-hiking dash from Paris to Brussels during a pretty hefty snow-storm: "Poor Michel. He lived in this fabulous apartment in Brussels. It was at least three times bigger than our place in France and very beautifully decorated with tasteful colours and fabulous rugs and carpets. I don't think he was too impressed with us trampling loads of dirty snow and slush all over his floor when we arrived. But he liked us, we liked him and the deal was done."
Duval had an ace up his sleeve that added even more excitement to the young trio's trip: "He asked us whether we would like to record a song with John Foxx. Ha ha, we nearly fell over. Of course we said 'yes' because we looked on John Foxx as God."
The trio was subsequently packed off to Foxx's opulent studio in East London. Called The Garden, it was built inside a derelict warehouse in Shoreditch in the days before coffee shops and art galleries embedded themselves into the local landscape. "John and Gareth (Jones - Foxx's trusty right-hand man and engineer on his successful album, 'Metamatic') were such lovely people and so patient. They made us feel totally at home and the studio was a great space to work in."
The result of this soiree was a gender-changing rendition of the Astrid Gilberto bossa-nova classic, 'The Boy (Girl) From Ipanema' and the beginning of a career-journey that would pay homage to samba, jazz and pop in equal divisions. A mini-album entitled 'Camino Del Sol' followed, produced by the trio before they took the plunge with a UK deal with Mercury Records, a move that proved to be a disaster creatively and financially. "We became a part of the Phonogram empire and things were great to begin with. We recorded two singles with them, 'Be Pop' and 'Life Is Too Short'. Our producer, Martin Hayles, was great to get along with and we were happy with the finished product. Unfortunately, our PR at Mercury moved on and the replacement was none too pleased to hear a French-language band on the label. In the end I took the decision to protect our interests and hot-foot it back to Michel with the tapes, much to poor Martin's amusement. We kind of just 'commandeered' them."
The name Antena, minus the Isabelle prefix, didn't appear again until the LTM-released album "Toujours Du Soleil" in 2006, an album that brought together the new trio of daughter Penelope, DJ Axaile Sonar and co-writers Thievery Corporation (Rob Garza and Eric Hilton) plus Isabelle. A Samsonite advert bolstered sales of this second album with its use of lead-off track "Le Spinner". After 25 years since the first Antena sessions, suddenly it felt like payback.
Later that year, "Camino Del Sol" was re-issued with extra tracks taken from those original sessions and a vault of rarities, and a 12" of remixes by Nouvelle Vague, Lexx, Rubber Room and Phreek Plus One appeared on the German imprint, Permanent Vacation. In 2010, to complete the picture and the trilogy, "Bossa Super Nova" was born out of random rummaging in lofts for analogue equipment and sequencers that were originally used on "Camino Del Sol", thus turning full-circle from the heady, carefree days of the early 80s up to the present time. Far from sounding retro, the album sounds fresh, confident and accomplished. Two songs from the album appear on this collection: 'Little Boxes' is an old folk song from the 60s that actually has more of a social comment then you might think. It criticized the concept of suburbia at a time when everybody was being forced to live in small, faceless housing. The song has been used on US TV recently so it seemed fitting to re-record it. The third choice, 'Le Grenier D'Isabelle' is also from the 2010 album, 'Bossa Nova Songs. "To Climb The Cliff' is a very early Antena song recorded around the time of 'Camino Del Sol'. Apart from the version on the flip of 'Boy From Ipanema', there is no decent interpretation available. Hopefully this one proves otherwise."
THE NAMES
Creators of the first of many Crépuscule purchases by this writer, Brussels-based The Names have had three separate careers as musicians. Initially recording as The Passengers as far back as 1978, they changed their moniker to the even-more anonymous The Names, yet musically became far less homogenous.
Their connection with Factory Records began with then-manager of Joy Division, Rob Gretton coaxing them back to Strawberry Studios in Stockport to record with eccentric producer, Martin Hannett. It was to be a wise and productive move - the first single, 'Nightshift' / 'I Wish I Could Speak Your Language' is a pin-sharp example of the so-called cold-wave, new-wave and whatever other 'waves' discussed and derided in the music press at the time.
Fac 29 was to be their only true Factory release, before heading back to Duval's Crépuscule (via Factory Benelux, also run as part of the Brussels 'empire') and the completion of the excellent 'Swimming' album, again with Hannett at the controls. Over to Michel Sordinia, the Names' singer and front-man: "We were very happy with 'Nightshift' of course, but it made sense to be closer to home with Crépuscule. Martin helped us create an album we were proud of and still are. To be fair, we really liked Duval even if he didn't totally get our music. He liked soccer, I liked soccer and so there was a simple common bond to begin with. The label certainly allowed us to develop as a band and creatively we couldn't fault them."
The band are back playing live again some 30 years after that inaugural Plan K gig, infusing their new material from the 2009 album, 'Monsters Next Door', with string-laden versions of 'White Shadow' from 'Swimming', 'Nightshift' and the rare Factory Benelux singles, 'Calcutta' and 'The Astronaut'.
Monsters-cut 'Halloween In June' and the aforementioned 'White Shadow' make up the duo of 'After Twilight' choices: "'Halloween In June' is a song we re-recorded with Isabelle at her request - it's a 'love-is-complicated' song. 'White Shadow' is a song that we have fallen in love with all over again during our recent 'live' sets."
Indeed, The Names were a regular instalment during the celebrated 'Dialogue North-South' tour, an event promoted by Crépuscule as a showcase for its artists from all over Europe. Michel takes up the story: "The 'North-South' tour was actually the best and worst of times for us. Initially we were asked by the label to play our songs in a softer, lounge style which of us course we did. But, in Lyon we were being shouted at by our fans who begged us to play our familiar set and play it louder. At the last minute, we changed the set, cranked up the volume and played one of best ever nights. I still get the occasional message about that night."
The Names continue to play live and record new songs, despite the 2010 departure of co-founder Christophe Den Tandt.
BLAINE L. REININGER
Crépuscule had already played host to multi-national avant-garde ensemble, Tuxedomoon, releasing a few singles here and there, before paying a little more attention to recently-solo catalyst and violin-maestro, Blaine Leslie Reininger. How did Blaine meet Crépuscule's Michel Duval? "I met him at the Plan K at our show in 1980. He liked us and approached us with a view to recording songs for his label. We obviously agreed and when I left Tuxedomoon to concentrate on solo work, he offered again. At the memorable first encounter in 1982 at the Palais Du Beaux Arts, I approached him with a demo tape contained in a box of other tapes. I stumbled and landed on my knees before him, a telling portent of things to come."
Reininger's first lone foray into the Western world was the album 'Broken Fingers', the title inspired by a mugging incident in Rotterdam after a concert. In hindsight, 'Burnt Fingers' may well have been the more suitable moniker given the experiences that were to follow. Basically, his record sales fell far short of his own expectations: "Do I feel that Crépuscule did enough to promote my music? Oh me, oh my. You ask a question like that and you begin to open a very large can of extra-juicy imported worms. Basically, they just didn't do enough to promote us."
However, despite the artist's bemusement, Reininger delivered a swathe of high-quality albums during his ten year tenure with the label. His second album, 'Night Air', mixed by Gareth Jones, remains his favourite and a source for one of the tracks on this collection: "Night Air was an album where everything seemed to come together. The song 'Un Café Au Lait Mr For Mr XYZPTLK', is about alienation and exile much like 'Broken Fingers' was, the feeling of not belonging in the place where you live. We (Tuxedomoon) were Americans living in a (then) crusty corner of Europe trying to make do. Alienation has been a primary theme in art since the Industrial Revolution anyway."
Further excellent albums followed including a concert document in the form of the 1986 album, 'Live In Brussels', an album that through my own personal experiences never failed to delight casual listeners. The album didn't perform well, sales-wise, yet it remains an audible highpoint in Blaine's career: "I would even consider re-forming that band these days because they were great! I am still in touch with them. In 1986 I had my best of times with our trip to Japan - we thought we were famous, we were employed and all was excellent."
As time passed, the good times became outweighed by the bad. Even with three decent pop-rock albums in 'Byzantium', 'Book Of Hours' and 'Songs From The Rain Palace', sales dipped, promo-singles were unheard of and times were hard, not least for Reininger who "wishes he had gotten sober sooner". Reininger has continued to record the occasional avant-garde rock and soundtrack work with 2007's 'Glossalia' a particular highlight.
ANNA DOMINO
Born in Tokyo, raised in Michigan, bathed in Italian sunshine, depressed in Canada, revived in New York, hung out to dry in Brussels and now re-invented in Los Angeles, you could be forgiven for thinking Anna Domino (born Taylor married Delory) might be sick of travelling and cultural variety. Yet back in the 80s, money was scarce and opportunities thin on the ground. However, Anna Domino's financial situation appeared to improve in the early 80s (on paper at least) after being introduced to Crépuscule's founder Michel Duval during a trip to New York. Eccentric chanteuse Miranda Dali (of Thick Pigeon) paired them up (musically-speaking) and the label-boss soon got acquainted with a tape of songs recorded in a loft with minimal yet beloved instruments and an imagination.
"They were songs I'd written and recorded in my loft and recorded with pots, pans, my Korg MS20 synth and my blue plastic Hagstrom guitar. I sent them to Michel and, 6 months later, I got a phone call, a plane ticket to Brussels (eventually) and a day in Daylight Studios. It was still being built so we'd sneak in after the workers had left, crawl under the plastic sheeting and record songs. Initially, it was an engineer (who quit because he expected us to sound like the Beach Boys) and myself. The place was constructed so strangely, they had to wire my leg to a water pipe to control the hum from the guitars. Other musicians joined in - Luc van Acker, Eric Michiels, Jan Weuts and the lovely Virginia Astley (and Crépuscule artist for one album, 'Promise Nothing'), as well as Blaine who was terrific on violin and produced us from within a dense cloud of cigarette smoke. Then Crépuscule pulled the plug and said 'bye-bye' - nothing more, nothing less. I begged and pleaded but to no avail. 18 months later, they sent me a test-pressing for 'East West', after which I signed my rights away and later recorded the first single, 'Rythm', on my next trip to Brussels."
The first few releases sold modestly, enough to keep Anna in fuel and food (just). 'East & West' is a frail yet powerful collection - 6 songs of itchy hooks and slight vocals that seemed to fit in perfectly with Crépuscule's direction, whatever that was. The EP 'Rythm' and the perky follow-up single 'Take That' showed an artist developing in a short space of time, all of which was leading up to the debut, self-titled album and her work with one Alan Rankine (Associates musician and writer as well as competent producer) and the late Belgian jazz-composer and producer, Marc Moulin. "Alan was recording, on and off, for Crépuscule at around the same time (he recorded a radio-hit 'The Sandman' amongst other pop and soundtrack releases before being peddled off to Virgin) so he ended up producing some of my material as well as touring with us in 1986. He was great, a true professional - he smoked constantly and wore the same clothes for days - it simplifies things to have a routine."
During the aforementioned 1986 tour (48 shows in 9 countries in 48 days), live-keyboard player Rankine and other touring-band members Bernard Loncheval (sax), Rudy (bass) and Frank Michiels (percussion), all seemed to suffer indignities and injuries prior to one particular night's performance: "Frank was always teasing Bernard (apparently he was very 'teaseable'). Frank would often ask the hotel to ring Bernard in his room at 6am which they did. But one morning they called his room every 15 minutes until poor Bernard got so furious and got up, fuming. He didn't stay angry for long because, despite everything, we had the best of times. During the last exhausting night, Bernard stepped on his sax, reducing its range by several octaves - he then tried to fix it and failed. Alan spent one night spitting wads of blood-soaked cotton wool everywhere on stage due to having a tooth pulled out earlier in the day, plus his keyboard keeled over and blew up seconds before the show, rendering it somewhat unpredictable. Rudy had cricked his neck and couldn't see the fretboard on his bass and Michel (Delory) had crushed his hand under a stack of suitcases at the train station - pretty difficult to play anything with a hand as a big as a ham joint. Frank had brass splinters in his hands so they were taped up and me, I had bandaged feet from dancing on glass-strewn stages throughout the tour. To cap it all, I wept uncontrollably through the final night due to the effects of diving into a swimming-pool just moments after the staff had pumped chlorine into it. Ouch."
Anna said goodbye to her band-mates at the end of the tour with tears in her eyes, real ones. "It felt like I was losing my brothers."
As quickly as Domino's records got released, they fell by the wayside with little in the way of UK promotion, although a brief licensing agreement with Factory Records came about for the same debut album and a single, the sprightly 'Summer' - it didn't seem to make an atom of difference to its fate. She fared better, however, in Northern Europe and Japan and despite the label's seemingly enigmatic attitude to its artists, Crépuscule persevered with Domino by releasing a further three albums: "We never knew when any of our records would appear or where, except in Japan which worked for us for a while. It was chaotic and nerve-wracking! We just never knew when we would tour or record again, instead earning just enough money to keep us breathing. My favourite releases are 'Colouring In The Edge & The Outline' and 'Mysteries Of America'. The former album was a chance for myself and Michel (Delory) to work without intervention and the latter was an introduction to production - I was very happy with how most of those songs turned out."
And so to the contributions on the 'After Twilight' project: "'The Light Downtown' is a love song in tribute to New York and was written shortly after we left the city when my heart was really in pieces. 'Wonderkey' was written a long time ago in 1977 - a simple song about a New York in turmoil at the time (riots, garbage strikes, blackouts) and 'The Son Of Sam'. 'Rhythm' was my first attempt to rework one of my own songs, successfully."
Anna and Michel continue to write songs under the Snakefarm moniker and would dearly love to play live again: "We love touring but last time we took visuals along for each song in lieu of a full band. Unfortunately it was like travelling with a huge TV - the audience was so distracted by the imagery, they appeared to fall asleep. But we'd love to tour again because we've never stopped playing - the whole thing would be a blast but the band would need paying and how does that happen these days? We're still looking for the secret to making a living through our music - we certainly couldn't live without it."
CATHY CLARET
Crépuscule began adding more indie, jazz and roots artists to its roster during the late 80s - Evan Lurie, Jane Kelly Williams, Devine and Statton and Ultramarine all contributed excellent albums to the ever-growing family of eclectic performers.
Cathy Claret, a young Spanish-French language singer with a passion for gypsy folklore and rhythms was also added to the list in 1989, delivering a sprightly album of previously released pop and flamenco-flavoured tracks (on Virgin France) and new vibrant vignettes, sung in a 'breathy' style already touted by Isabelle Antena during the early 80s and later to be promoted by Bebel Gilberto. With an authentic Spanish backing provided by musicians from flamenco-specialists, Pata Negra, the self-titled Crépuscule debut contained a few older songs from her Virgin days, plus an assortment of new songs. "At first I was excited about making albums with complete freedom. I had released a couple of singles with Virgin France (with Sade's producer) but I wanted to say where and when I recorded my music. Michel Duval met me whilst at Virgin, I said 'yes' to his offer in the hope they would do all the promotion for me. The first album sold very well in Japan, fairly well in Spain, Belgium and a little in France (ironically considering she can sing in three tongues, one of which is French) - I was getting some acclaim, even from the UK (NME and Melody Maker) plus I was offered soundtrack work."
To these ears, her self-titled debut album is the equal of any classic French-pop released in the last 50 years, helping to earn her front-page attention from Paris Match and Les Inrocktuptibles, as well as an encouraging review from NME's Paul Lester declaring it "a beach of an album" - A few problems did occur during her European tours, however, with Claret citing her gypsy origin as a problem. "The worst moments were with recording and playing in Belgium - the taxis refused point-blank to take us because 'we were gypsies'."
Whether this alleged prejudice had any bearing on her sales in the UK or France is debatable, although by the late 80s, roots-music from around the world was finally getting recognition amongst major-label offshoot-labels. Had her self-titled debut or second Crépuscule album, 'Soleil Y Locura' appeared on Peter Gabriel's Realworld or respected Hannibal, Claret's progress may have accelerated. The aforementioned album was released in 1991 and became her last release for the Brussels imprint. Ironically, it supplied her with her biggest hit from an unlikely source. "One of the musicians on my records was Raimundo Amador (Pata Negra) who worked with BB King for a major-label release. King chose the song 'Bollere' from the new album which eventually became a huge hit in Spain". I wanted to make the album sound 'live', like on stage. Unfortunately, the money ran out and Crépuscule needed it to be released in time for the 1991 Japanese Tour - I was given 10 days to finish it off in a hurry. It remains unfinished."
Claret experienced considerable success in Japan - magazine covers, press interviews and a bout of autograph-signings and tribute acts propelled her career along at a rate of knots. Despite an unrewarding relationship with EMI, Warner continued to sustain her popularity with albums such as "Gypsy Flower" and "La Chica Del Viento". After Twilight has given the singer a chance to revisit an old song ('Toi') and to perform two new ones, much to her delight. "'Toi' still sounds fresh and was an unusual song for its time - acoustic and pop (and sung in French or Spanish). The other two newer songs, 'Chocolat' and 'Tell Me Why Soledad' were being worked on at the time Issy approached me about this album. 'ÖSoledad' is about how you have no voice and no power when you are poor and forgotten about."
And for the future? "Since Crépuscule came to an end, I have continued to record albums in Spain, in fact I never really stopped. I have finally become a respected musician here (her album 'Gypsy Flower' sold well) and have also recorded songs with Finley Quaye for future release. Oh and BB King included 'Bollere' on his 'greatest hits' which was a real honour."
PAUL HAIG
Haig's involvement with Crépuscule was initiated by the release of the fidgety and memorable guitar-pop singles, 'Sorry For Laughing' and the farewell 'The Missionary', by Josef K. Superb yet generally over-looked, the band imploded with little ceremony in 1982 and the slightly-reluctant front-man Paul Haig opted to go it alone. In the meantime, he donated an experimental funk cut, 'Mad Horses' (inspired by ghostly sounds at his parent's neighbouring farm) and the plaintive seasonal-ballad 'Christiania' to a pair of Crépuscule compilations before gathering a 'live' band together. After forming the band Rhythm Of Life and engaging their services on the North-South Dialogue Tour, a cross-Europe music-tour starring The Names, Antena and Tuxedomoon (amongst others), Haig's decision to drop the RoL moniker was completed when debut single 'Running Away' got a release via Crépuscule in the Benelux territories and via Operation Twilight in the UK. It didn't bother the main Top 40 but did manage to head up the then-Independent Singles Chart.
The follow-up single, 'Justice', was scrapped - instead Crépuscule signed a licensing deal with another label - a pretty big one as it goes. "The first album (cunningly-entitled 'Rhythm Of Life') was released as part of a licensing deal between Island Records and Crépuscule. Duval met up with Chris Blackwell at a party and decided it all there and then. It certainly helped me sell more records."
It appeared to be a perfect deal - Haig (and also Antena and James Cuts) would have benefitted from a release on both sides of the English Channel. That was the theory. In reality, neither Antena nor Cuts experienced the heady heights of fame and fortune, although Haig's 'Heaven Sent', one of four single from that debut opus, reached number 74 Ö and then disappeared from view. The predecessor ('Blue For You') and follow-ups ('Party Party' and 'Justice') did the same.
A fine second album 'The Warp Of Pure Fun' was finally released in 1985, yet still failed to capture the imagination of the public, radio and the label. Haig again cites a lack of money as the main reason for its subsequent commercial failure. This was despite a sharp co-production by Haig and Alan Rankine, and also courtesy of one Bernard Sumner and Donald Johnson at the helm on his final Island single, The Only Truth. "Michel suggested using Be Music / Dojo - it seemed to make sense at the time."
Upon listening to the finished product, it is difficult to disagree with the concept - strong songs and a state-of-the-art (but thankfully not too glossy) production. However, yet more singles were released with little acclaim. How radio managed to overlook 'Big Blue World', 'The Only Truth' and 'Heaven Help You Now' (again all three were released and 'promoted' on UK and Benelux soil) is unclear, but Haig is confident it was plugging - or the distinct lack of it. Eventually the singer took stock and a move to a major-label seemed inevitable, in this case Circa, part of the Virgin empire: "They offered an advance, far bigger distribution and an outlet for me. But, as a warning, Billy Mackenzie once said to me 'I'm just a bauble on their Christmas tree'. I now know what he meant. But life at Crépuscule wasn't all bad - going to Japan as part of the Crépuscule festival was definitely a good thing. The 'Bad' was the moment I was kept awake at night by ghosts in the Katy Studios during the recording of the single 'Torchomatic'."
Circa failed to break Haig and his impressive 'Chain' album, with the label resorting to the requisite remixes of lead-single 'Something Good' in order to shunt it nearer to the charts - it didn't work. Soon it was time for Paul Haig to head back to Crépuscule for one more album, the oft-delayed 'Coincidence Vs Fate', a clubbier set of Haig standards co-produced by house-music hitmaker Lil Louis and technical hip-hop impresario Kurtis Mantronik as well as Haig himself. Lead track 'I Believe In You' had already nose-dived at the hands of Circa, hence their passing-on of 'Coincidence' to the Brussels stable.
These days, Paul Haig is very much in control of his own destiny - most of his post-Belgium output has appeared on his own RoL imprint, save for core catalogue re-issues by LTM. His 2009 album 'Relive' garnered healthy reviews and the song "Ambition", included here, is one of the highlights. Haig continues to write and record new music adding new toys and guitars to the mix, minus the ghosts.
PAUL PLEDGER