The Wake \ A Light Far Out [LTMCD 2550]
A Light Far Out is a 2012 studio album by cult Factory/Sarah Records group The Wake, their first since reforming after an extended hiatus.
Re-emerging with well-received live shows in Brussels, London, Paris and New York, core duo Caesar (guitar, bass and vocals) and Carolyn Allen (keyboards and vocals) recorded A Light Far Out with producers Ian Catt (St Etienne), Duncan Cameron (Teenage Fanclub) and remixer Drew Diver of NYC-based duo Horse Shoes.
"Really it's been a process of rediscovery," says Caesar. "After getting back together to play the Factory Night at Plan K in Brussels, then going on to play a few more gigs, we set about making a fifth album. Hopefully it combines elements from our past recordings with our more recent work as The Occasional Keepers - to create something that resonates in the present day."
Tracklist:
1. Stockport
2. If The Ravens Leave
3. Methodist
4. The Back Beyond
5. Starry Day
6. Faintness
7. A Light Far Out
8. The Sands
CD copies ordered direct from LTM come with a free 9 track live CDR: Plan K BXL 12.12.2009, featuring Testament, Uniform, O Pamela, Here Comes Everybody, Favour, Talk About the Past, The Old Men, Something Outside, The Sands.
A limited edition vinyl version of A Light Far Out (500 copies, FBN 64) was issued for Record Store Day in April 2013.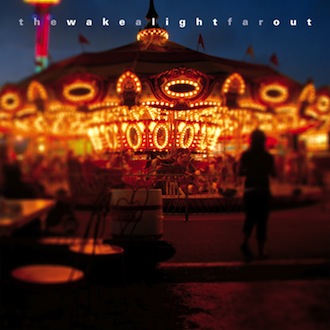 Reviews:
"Some bands have to wait years or even decades to be fully appreciated. The Wake were built that way from the start. They might not ever be truly stars, but the time they've worked hard for is, well, now" (Pitchfork, 06/2012)
"A marvel!" (Magic, 05/2012)
"Sweetly perfect. There's evidence throughout that The Wake know fully well what year it is without completely surrendering their aesthetic. The highlight, perhaps appropriately, is the lengthy title track, with the mid-song break and switch to a really lovely guitar/keyboard-led conclusion sounding like the majestic moment intended as a payoff for listening to the album as a whole. It's all very formal but it works very well" (AllMusic, 04/2012)
"With the weight of cult-dom resting on their shoulders, The Wake have managed to produce something which sounds remarkably relaxed. The album refuses to look back, instead finding the band re-capturing their sound while adding new elements. Sure, there are nods towards post-punk and peerless pop, but A Light Far Out seems to most prominently recall the expert synth-inspired songcraft of Saint Etienne. An intoxicating return" (Clash, 05/2012)
"The basic tunes are often simplicity themselves, but honed to something near perfection" (Glasgow Herald, 05/2012)
"Amazingly, tracks such as Stockport and If the Ravens Leave match the quality of their old material, with that light electronic vibe underpinning Caesar's vocals. As the rest of the album unfolds, the quality control only heightens" (Record Collector, 08/2012)
"They may have not been around for a long time, but that doesn't mean they've not been keeping an eye on how the music scene has progressed. Maturity and a sense of happiness prevail throughout. 9.5 out of 10" (Stevo, 04/2012)